Now that our Spring has arrived, our three hens seem as happy as the effusion of melodic robins and sparrows in the yard! How do I know this you ask? Because they are once again laying eggs – delicate brown and pale green!  Ahhhhh, sunlight and longer days causing all creation to burst forth!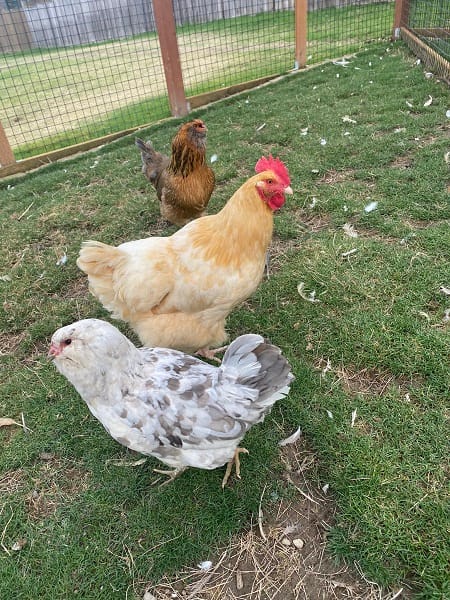 Here in our valley, the arrival of April brings with it the Skagit Valley Tulip Festival.  WA State is the largest grower of tulips in the US and our small farming community grows 75% of all those tulips. April is designated as Tulip Festival Month when our valley overflows with visitors from all parts of the world driving along the colorful fields, taking tours and LOTS of photos, joining in the festivals, street fairs, hiking, biking, music events and all sorts of other fun. I will be selling and signing all my books at Refeather Your Nest on Friday, April 21, the first day of the Tulip Festival Street Fair in downtown Mount Vernon. It will be festive and full of happy people. Hopefully the sun will shine that day for us all!
Adventures in Reading and Writing
I very much enjoy reading non-fiction books about both professional chefs and home culinarians who love to cook and travel the world learning to do so. They always have marvelous stories to share about their experiences and adventures with food. Currently I am reading Stanley Tucci's book Taste. You may know Signore Tucci for his award-winning acting both on stage and in cinema. He played Julia Child's husband in the delightful 2009 movie "Julie and Julia". In his book, he writes about growing up in Upstate New York and recounts tales of his Italian family and especially his mother's cooking and their home life which centered around the family dinner table. Included in the book are recipes. It is a treat to read, as you feel you are sitting across the dinner table in front of a deliziosas Italian dinner of ragu listening to Stanley share tales of his interesting life and his love of Italian cuisine and how to prepare it.
The second cozy mystery in the Drew Davies Railway Series is coming right along.  The title remains a mystery as well, but that will be revealed as the story continues to unfold. Fifteen chapters in draft and counting. This week I wrote the murder scene and "watched" as Drew discovered evidence and tucked it away inside the pocket of her railway uniform. Oh Drew, be careful!
Later in April, beginning on Thursday 4/27, I will be attending the Chanticleer International Book's 2023 Author's Conference at the beautiful seaside Hotel Bellwether in Bellingham, WA. Instructional workshops and informative presentations will abound as wonderful people from all over the world gather to connect, hone our craft, and celebrate one another. The last night of the conference is the awards banquet, and it is truly a gala affair. Again, I am so honored and grateful that The Book of Rules is a finalist for the division award for Mystery and Mayhem.  Fingers crossed!
Gardening and a Recipe
I become overly zealous in April and feel an almost overwhelming urge to plant seeds in the dirt and flowers in the pots. But I know I can't become too keen as we may still have frosty nights. Like last night. I woke up this morning with visions of prim roses and tulips dancing in my head only to look out the windows at the carpet of frosty white upon the ground. I am not a very patient person, a quality I am always trying to practice (sometimes to no avail), so I will wait a little longer to begin planting. At least I can work in my garden journal graphing out and plotting my gardens and continue dreaming!
While I wait for warmer days, I cook! Occasionally, Terry and I have a longing for Brussel sprouts. I am NEVER successful growing them in my gardens as the aphids ALWAYS find them. Using a spray of vinegar, and/or a blend I concoct of essential oils and dish washing soap and, despite claims of success from on-line users and gardening friends, never rids my sprouts of the tiny bugs. So rather than become frustrated every year, I now buy lovely sprouts from the market. Here is our favorite way to enjoy them!
Sauteed Brussels Sprouts   
Serves 4 – 6
Ingredients
2 lbs. brussels sprouts – rinsed, trimmed and halved
2 tbls. extra virgin olive oil + 1 tsp. for the skillet
1/4 tsp. salt
1/2 tsp. cumin – add more/less to taste
Wedges of lemon
You can also add feta cheese, pine nuts, cilantro or parsley to your taste. I do not add anything but the first four ingredients and serve add the lemon wedges to the serving platter. The addition of lemon juice is wonderful.
Instructions
Heat a large seasoned cast iron or other heavy skillet for 2 minutes over medium heat
Add the 1 tsp. of olive oil evenly to the pan and let it heat
Place the sprouts, 2 tbls. oil, salt, and cumin together in a mixing bowl. Blend thoroughly with a wooden spoon or your clean hands. I use my hands for a thorough coating of the sprouts and also because my hands smell marvelous as I rub all the oil and spices into my them up to my elbows.
I place the sprouts one by one in to the heated skillet, cut side down.
Leave them undisturbed for 4-6 minutes or until they are browned. They will have a caramelized sear.
Turn the sprouts to brown again and continue cooking, tossing occasionally until they are browned all over and tender, about 6-8 minutes more. I place them on a platter with the lemon wedges and serve.
If wishing to add the other ingredients of your choice, remove the skillet from the burner and add the feta or nuts, etc. The residual heat will warm the added ingredients. Then serve.
Bon Appetit!