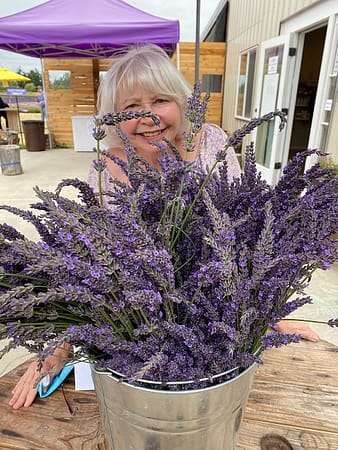 Bon Jour from Gail Noble-Sanderson
Being once again a part of the Lavender Festival at the B & B Family Lavender Farm in Sequim, WA, was as wonderful as all the previous years. My talented sister, Kathy, and I set up our wares table, and over the next three days experienced wonderful conversations with hundreds of kind people from all over the world. Some were first timers to the festival and others made enjoying the beautiful lavender farms an annual event. And so many dogs and little children! Kathy sold many paintings, and many people purchased my books. How fun to personally sign each one while getting to know the reader just a little.
Adventures in Writing
My wonderful editor, Sally Carr, called a few weeks ago to let me know that she was ready and eager to begin reading the draft of my next book, a cozy mystery entitled The Book of Rules. I was making potato salad at the time of her call but as soon as we hung up, I wiped my hands on my apron and scurried to my laptop to send the first thirteen chapters off to her. I still want to read through the remaining ten chapters one more time before I hit send again.
Sally has done a marvelous job editing all my books and I look forward to this next adventure in editing. Depending on how much time we both have, it takes us a good 4-6 months of back and forth between us before a book feels finished. During the editing process, I usually end up writing another chapter or two or at least revising existing ones often adding additional dialogue, expanding historic elements, and enhancing the settings. Sometimes that first chapter, the one you are always striving to "get just right" goes through a rewrite or two……or three.
Upcoming Books Events
On Thursday, August 19, I will be doing a book reading and signing event to support the Voices of the Children (VOTC). This outstanding organization pairs teens around the world in collaborative arts projects to shine a light on humanitarian crises and to encourage community engagement and personal growth for these young people. VOTC has a lovely boutique, Habibi, in downtown Mount Vernon where they sell beautiful works of art made women artisans throughout the work and that is where this book event will take place. Sixty percent of all sales goes to support the work of VOTC.
The event will be at the Habibi boutique on Thursday, August 19 from 4p – 6pm at 407 S. First St., Mount Vernon, WA 98273 from 4pm-6pm. It would be wonderful to see you there!
Thursday, August 21, the exquisite Bee Merry Dahlia Farm will be hosting me and my books during their u-pick hours from late afternoon through early evening. This delightful dahlia farm is located at 16535 Jungquist Rd., Mount Vernon, WA. Come by, stroll the gardens, pick some lovely flowers, and say hello! www.beemerryfarm.com
Book Readings and Recommendations
I have discovered mystery writer Cathy Ace! Cathy presented at this year's Chanticleer Authors Conference and as soon as I saw her name on the roster and read her bio, I immediately ordered her first book, The Corpse with the Silver Tongue. This is the first of eleven books in her Cait Morgan Mysteries Series and it a great one to read (to begin following the sleuthing adventures of criminologist Cait Morgan. I highly recommend this great series to anyone who loves cozy mysteries!!
Gardening and Cooking
During the second and third weeks of July the lavender is ready for harvest. Some of my harvest includes collecting and drying the buds of English lavender, often referred to as culinary lavender and what I use in baking and cooking. Of course, I had to make a batch of lavender shortbread cookies! I use traditional shortbread baking pans – one with spring/summer floral designs and one for fall/winter. Below is a family favorite recipe I hope you enjoy!
Lavender Shortbread Cookies
Makes 9 cookies – double recipe for 18
Ingredients:
¾ cup softened butter
½ cup confectioners' sugar
½ tsp. vanilla
1¼ all-purpose or pastry flour
¼ cup semolina flour
½ – ¾ tsp. culinary lavender buds
Instructions:
Oil shortbread pan
Cream butter with sugar until light and fluffy
Work in flour and knead on lightly floured surface until smooth
Press dough into pan and prick dough with toothpick
Bake at 350 degrees for 18- 20 mins. until golden brown
Let cool in pan for 10 mins.
Loosen edges with a knife
Invert pan onto large cutting board. Cut into pieces while still slightly warm. Bon Appetit!!