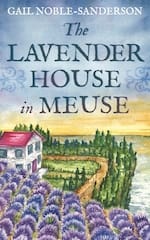 While it may be a good practice not to judge most books by their covers, the cover of "The Lavender House in Meuse" may just be the exception!
My sister, Kathleen Noble, is an artist and illustrator. While I was visiting Kathy and our mother in Dallas this spring, I mentioned to her that the book needed a cover that captured the essence of the story and we had yet to find one that did just that.
I also mentioned to Kari Houk and Michelle Fabio at Gemelli – Green Darner Press, that Kathy was an artist, I would be at her house for a week, and was thinking it would be worth our while to see if Kathy was interested in submitting a cover or two for the book. They agreed that I ask Kathy and she and I were off on an exciting collaboration!
Each morning of my visit, Kathy and I sat at her kitchen table and worked. I read the manuscript of "The Lavender House in Meuse" aloud as I was doing edits and as Kathy listened, she began to paint. We had all thought early on that a landscape scene would work well, and after Kathy did some preliminary research and then listened to my descriptions of the house, lavender fields and the river Meuse, she created the perfect cover for the book.
And so, as you look at the lovely watercolor painting depicting so vividly the time and place of Marie's story, I believe you can truly judge this book by its cover!
Best Regards,
Gail