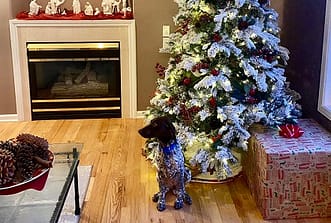 Our usual chilly Pacific Northwest December days spur us to begin thinking about lights and trees, presents and big holiday dinners. This year, however, our focus has been on watching the flood waters of our rivers rise over their banks causing significant flooding as well as dangerous landslides. Highways, bridges, and roads have been closed and residents in some areas urged to evacuate or underwater. We are grateful for the efforts of our cities, counties, federal agencies, and local citizens for providing help to reinforce dikes and install floodwalls and building steep walls of sandbags to keep the water at bay. We are hoping that soon the temps will drop, the rain will cease, waters of the rivers abate and the land dries. Then we can again turn our thoughts to the holidays and celebrate our blessings.
Adventures in Writing and Reading
I have given myself a writing pass (but not a thinking and planning pass) until after the busy Holidays. I am always making notes and my mind continually thinks about adding this bit of dialogue and this new development, this character's actions, and the flow of the plot.
Now that Editor Sally has provided me with input and suggestions, after the busyness of the season has passed, I will once again sit at my keyboard and make changes, revisions, and additions. I need another red herring suspect and trying to conjure up how to make that happen. Mysteries must always include a few suspects who are not the villain but who may also have motive and opportunity but, in the end, did not actually commit the crime. And I need one more such character. Maybe I'll ask Santa to bring me one for Christmas!
Lately I have been reading a few light Holiday stories by a variety of authors and balancing that light fare with poetry by Mary Oliver. If you have not discovered her poetry, ask for one of her brilliant books for Christmas. She calls us all to answer the most important question of all; "Tell me, what is it you plan to do with your one wild and precious life?".
I have also been reading the outstanding novel The Invention of Wings by Sue Monk Kidd. Her descriptions of slavery on the southern plantations in our United States during the late 1800's is heart wrenching and a reminder to us all of how much has and has not changed for so many in this country.
Gardening and Cooking
Harvested the last of the carrots and potatoes. So many that we'll be eating them till next summer!!! I gave daughter Taya carrots for her to include with her Thanksgiving dinner. Was wonderful to go to her home and celebrate with family.
My first sewing and cooking teacher was my precious grandmother, Edith Leoda Devore Kunsman. My memories of creating potholders from scrapes of her sewing projects at her Singer treadle sewing machine and making taffy and cream puffs in her cozy kitchen, are among my most treasured memories. Below is the recipe for her sugar cookies that we baked every Holiday. I like to roll them thin and decorate them with just colored sugar sprinkles. They are not too sweet and are a treat in the early morning before first light with that first cup of tea or coffee. Enjoy and Happy Holidays!
Edith's Sugar Cookies (I often double the recipe)
-3/4 cup shortening -1 ¼ cups sugar
-3 eggs – unbeaten -2 ¾ cups all-purpose flour
-4 tsps. baking powder -1/2 tsp. salt
-1 tsp. vanilla -3 tbls. Milk
Cream the shortening with the sugar, add the eggs one at a time and beating well between each egg. Blend dry ingredients together and add to shortening mixture, alternating with the milk and vanilla. Chill well before rolling. Sprinkle with sugar decorations before baking or frost after cooking. Makes 3 ½ dozen cookies. Bake at 350 degrees for approximately 10 minutes. Happy Holidays to you and yours!