Happy Holidays Dear Friends! May this letter find you and yours making plans to be with family and friends to celebrate love, joy, and peace. Our family will be together on December 23 for dinner in our home. Our children, grandchildren and friends will later celebrate at the other grandparents' homes on the 24 and 25. We alternate Christmas Day every other year and it works out so well. I always tell myself I don't need to make a big Christmas dinner on our "off" year but I truly love to cook, as you know, and the holidays just aren't the same for Terry and me if we don't gather in our home with family at least once during the holidays.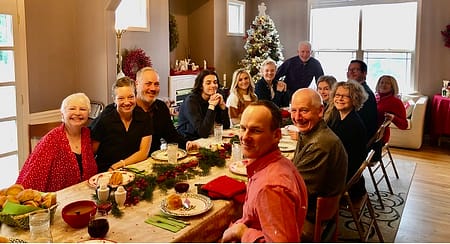 Adventure in Reading and Writing
All seems to be going well with the marketing efforts for the new cozy mystery. The book is out and I have had several opportunities to be present in shops and stores to chat and sign books. Friday, Nov. 11, found me at Refeather Your Nest in Mount Vernon, WA, where I spent most of the day. The beautiful shop was completely decorated for the Holidays and the atmosphere was fun and festive. Author friends from Bellingham came to surprise me, and the wonderful customers I chatted with throughout the day made it incredibly special.
On the Saturday after Thanksgiving, November 26, I will be at Village Books in Fairhaven, Washington, from 1-3 pm. The formal book launch for The Books of Rules is December 2, 7 pm at Village Books. I must say my book launches are always fun events as we do readings with guest readers, always have a raffle and we can linger after to chat and sign books. I would love to see you there! To reserve your seat(s), just go to villagebooks.com and then to 'events'.
Gardening and a Recipe
Every year I tell myself this is the year I will finally plant garlic! Garlic is best planted in the fall in soil that drains well. Garlic is a forgiving plant and so I am hopeful it will gracefully present itself in the spring. I still have much to do to winterize several of the garden spaces. I tell myself it will all get done and somehow it does.
If you are headed off to a holiday party or get together and want to share a tasty treat, may I suggest this tasty appetizer recipe? I will be taking it to our daughter Taya's home later this month. Enjoy!
Artichoke Crab Dip Holiday Appetizer
Ingredients
1/2 cup sliced green onion tops and white
1 cup fresh, frozen, or canned crab meat
1 jar artichokes drained and chopped (not marinated)
2 tsp fresh garlic – about 2 cloves
1 heaping cup of mayonnaise
1 heaping cup of fresh grated parmesan cheese – please use fresh
2 cups fresh chopped spinach
¼ cup fresh parsley, basil, or cilantro – choose one of your preferences
½ tsp dried oregano
2 tsp olive oil
Crackers or toasted baguette
Instructions
Preheat oven to 350 degrees
Chop the spinach, artichokes and green onions and add to medium size mixing bowl
Add the mayonnaise, parmesan cheese and spices to the mixing bowl
Blend in the crab and transfer all to a shallow baking dish and bake at 350 degrees for 20-25 mins. until golden and bubbly.
Bon Appetite!!