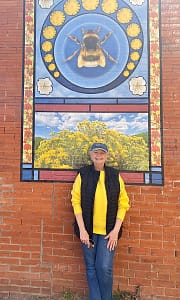 In protest of Punxsutawney Phil's outrageous prediction of another six weeks of winter, I just ordered poppy and zinnia flower seeds and cleared the kitchen garden! Daffy and tulip bulbs are popping up nicely and the rhubarb as well. And the heather is in bloom! And the presence of ten chirping robins in the yard and baby bunnies in the field hold at least as much sway in predicting the arrival of spring as Groundhog Phil! I'm going with the birds and bunnies and predicting spring will come when it is ready, which we hope is next week. Yes, in case you haven't noticed, I always travel the road of optimism
Adventures in Reading and Writing
I am very excited to share that my new cozy mystery, The Book of Rules, is now a finalist in the 2022 award division for Mystery and Mayhem in the Chanticleer International Books Contest. The winner from the finalists list will be announced at the Chanticleer Author's Conference this April. I am overwhelmingly grateful and extremely surprised that the book made it through four rounds of judging to land as a finalist. And thank you to each of you who have read the new book and have contacted me. If anyone would be willing to write a review on Amazon, please let me know and I will e-mail you all the recipes from all the 2022 newsletters.
Research for the new book, which is currently untitled as I can't decide, is going well. This last two weeks I have been reading and studying "The Troubles" in Norther Ireland which occurred from 1920-1922. The history of Ireland reflects many periods of turmoil surrounding efforts to break away from British rule to become an independent and sovereign country. Not all citizens wanted to break away from Britain, and Britain was not of the mind to forgo rule of Ireland – hence the conflicts. Currently, the country is divided into Northern Ireland, which is part of Britain, and The Republic of Ireland, which is a sovereign country to the south. Ireland's struggles are complicated and I find myself reviewing and rereading articles till I feel I have somewhat a grasp of the complexities. My interest focuses primarily on the women who supported Irish Independence and were involved in undercover intelligence work and acts of rebellion. I have found the book, Women of the Irish Revolution, along with many other articles, to be very informative.
Writing historical fiction involves spending much more time researching for the book than actually writing the book. At the present time, I am research several aspects of the time in which the next book in the series is written, which again takes place in Wales but is now 1947. I will write more about these topics of research in the next newsletter. I do write chapters of the book at the same time the research takes place, often going back to add historical elements to the setting and events. It is always an adventure and I am never happier than when I am writing and creating a new book!                                                     
Garden and Recipe
Three weeks ago, I had my gallbladder removed (went great) and shortly after, a cold attached itself to my sinuses and lungs and I got bronchitis. I have been doing very little gardening or cooking other than easy dinners like baked potatoes, and a salad. But my darling husband, Terry, needs more than rabbit food to subsist on and has been bringing home some yummy take out.
This morning he left for work and then reappeared twenty minutes later with a red velvet cake (think Valentines) which he thought I might enjoy with my coffee. Of course I will and he will enjoy several pieces later with tea. So this is my February recipe:
A Recipe for Love
Ingredients
A kind and loving person who comes along beside you to keep you feed and nourished in all ways. This can also be a wonderful pet, but they probably won't feed you but may share their food bowl and toys.
Instructions
Be kind and loving in return and feed and nourish them in all ways. And share your food bowl and toys.
Bon Appetit!