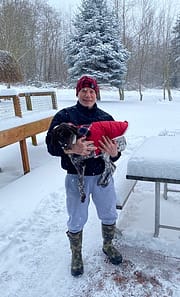 May this first newsletter of 2022 find you warm, safe, healthy, and ready to usher in a 2022 filled with hope!
Brrr! We have had quite the winter here with as much as a foot or two of snow blanketing much of Western Washington. We had a white Christmas, only the fifth in 121 years. People either loved it or wanted the snow to cease and desist! My family and I really loved sitting round our dinner table at Christmas dinner watching the snow fall all afternoon. People did leave a little early to get home before dark.
Adventures in Writing and Reading
Just before Christmas, I received my blue ribbon award for "first place in a series" for my Lavender Trilogy series of novels from Chanticleer Books and Reviews! It was a great way to kick off writing adventures for 2022!
My only 2022 resolution is to now focus on the edits for The Book of Rules, my new historical cozy mystery novel, and dedicating every Thursday and much of Fridays to staying home and writing. Last week was my first Thursday and Friday to do so and, after revising and editing nine hours on Thursday and seven hours on Friday, my brain and bottom were equally fatigued but my spirit was soaring!
I am incredibly thankful that my schedule allows me time to devote dedicated time to my writing! Last week I got through 18 of the 24 chapters and this week I should be able to complete the first round of revisions which focused on further development of plot and characters.
And what happens next? Next week I will begin at chapter one again and proceed through the manuscript adding detail to the settings, such as further descriptions of the beautiful landscape of Southern Wales and additional details of the places where the story unfolds and where the characters live their lives.
After that is done, then one more go round through the manuscript adding historical details and once again, reading and checking my research. Then off again to Editor Sally for her second round of input.
Keeping my stories grounded in the reality of the times in which they are set if very important to me. The years following WW2 were harsh for much of the world. Recovery was long and arduous. In Britain, food rationing continued until 1954. The London Housewives' Association gathered in London's Trafalgar Square to mark the event.
During the last two years, as the pandemic has caused shortages resulting in empty shelves and long lines at the groceries and rationing of how much we can purchase at a time, I am always reminded of how meager our concerns are compared to war time. We may not be able to buy toilet paper, the brand of flour or cuts of meat we usually prefer, but we have options. Those in war time, and for many years after, had few options and made do with whatever was in their ration books. And then, after sometimes hours of waiting in long lines in front of the shops, often those items were not to be found either. These are examples of details that make historical fiction so important to the marking of history as authors write about the past.
Gardening and Cooking
I was so excited this week to see that the rhubarb has broken through the cold earth and the lovely pink leaves are nearly an inch above ground. And the chickens have begun laying again! To me, these are very early signs that spring and, although March is still six weeks away, when I begin to think about the planting of early vegetables such as carrots. And on a note of historical interest, there are over 40 different varieties of carrots and up until the late sixteenth century when the Dutch developed the plump orange carrots, nearly all cultivated carrots were dark purple in color.
This week I have been researching how to make filled cupcakes. Our youngest daughter, Katy, will be married this June and has requested raspberry filled cupcakes. I thought I would see if I could create ones she might like serving to her guests. Yesterday we had a wedding planning luncheon and, after taste testing the cupcakes, we all agreed they were a go. Below is the recipe should you want to bake a tasty treat for others or a delicious dessert for yourself! They can be filled with any preserve of your choice.
Raspberry Fill Cupcakes
Follow the direction indicated on one box of white or chocolate cake mix. I use the extra moist cake mix. Each box makes 24 cupcakes. Use cupcake liners in the cupcake baking pan and bake at 350 for 20 minutes.
After the cupcakes have cooled, take a small, sharp, serrated knife and cut a circle in the top not quite to the bottom of the cupcake. Carefully remove the circle of cake placing it just above the cupcake which allows you to fit it back precisely into the hold.
With a very small spoon, fill the hole almost to the top (but not quite) with the fruit preserve of your choice.
Pick up the top of the hole you have laid aside and carefully remove a portion of the cake from the bottom of it. This accommodates the filling and the top can be replaced seamlessly.
Make your frosting and begin with a good portion applied gently on top of the hole and then frost the rest of the cupcake. Below is the frosting recipe.
Buttercream Frosting
1 cup (23 grams) unsalted softened butter
3 cups (360 grams) powdered/confectioners' sugar
2-3 Tbls (30-45 ml) heavy whipping cream
1 tsp pure vanilla extract
very small pinch of salt