Happy New Year my Friends! I hope you are excited and hopeful about 2023. I am not one for making resolutions, but I have promised myself that I am not going to allow events that I have no ability to alter or control cause me stress. That doesn't mean I am going to bury my head in the sand and never look at the news (which is usually the source of my stress), but I am going to limit what I look at and how often. The phones we carry can be of great service in navigating ourselves to destinations but they can also, with the constant barrage of noisy news, take us to places where we do not need to spend time. So, ten minutes, once a day for news, local and world, is my intention for 2023. There is much to fill our time that results in positive outcomes for ourselves and others – acts of kindness, words of encouragement, deeds of service, and time alone to reflect and, for me, time to write, garden, cook, and spend meaningful time with friends and family. And with all that is good, we can change the world.
Adventures in Reading and Writing
I just finished an excellent book by Robert Dugoni entitled The Extraordinary Life of Sam Hell. The novel is a wonderful story about a young man with a condition which caused him to be born with red eyes and how, through the love and support of family and friends, he navigates life with what most of the world perceives as a handicap. The story is uplifting, beautifully written, and the characters so well developed that at the end you are sorry to say goodbye. Mr. Dugoni has written other books as well and receives high marks for them all.
I am happy to report that my new book, The Book of Rules, is doing well. And thank you to everyone who has written a review on Amazon or shared your kind opinion of the book with a fellow reader. I continue to ask that if you have read the book and enjoyed it, it would be so appreciated if you could please post a review on Amazon. Just let me know and in turn I will e-mail you all the recipes from my 2022 newsletters.
This month saw me "officially" begin the next book in the Drew Davies Railway Mystery Series. I spent this last Thursday organizing all my notes, scribbles, a few chapter drafts, research books and files, maps, printing off a UK 1947 calendar, and beginning my chapter timeline. I have dialogues from existing and new characters running through my mind daily, and I'm scrambling to find the dedicated time to stop and write it all down.
The beginning of writing a new book is incredibly exciting! You are creating plot points, dialogue, settings, and developing new characters. It is fascinating to watch new characters literally come to life on the page. To see them form and grow through dialogue, mannerisms, physical characteristics, and interactions with other characters is such an amazing process. They take on their own lives as they provide me with the dialogue and all the elements of who they are. I watch the ebb and flow of plot and setting develop as a movie in my mind and write it down nipping and tucking as it flows.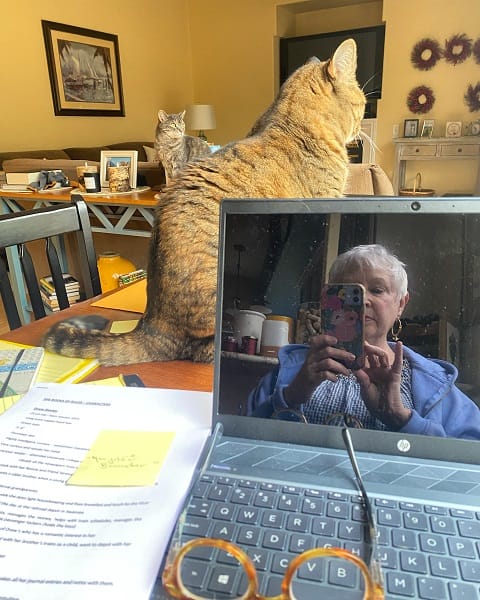 Upcoming Events
On Saturday, Feb. 4 (10am – 4:30pm), and Sunday, Feb. 5 (12pm-4:30pm), I will be participating in a Pop-Up Book Fair. Valentines Day is the theme and authors, and artisans will be showing and selling their wares. This exciting event will take place on the first floor of The Herald Building in Bellingham, WA. It is going to be fun and festive! It would be great to see you there!
Gardening and a Recipe
Today it is once again showering and 50 degrees. We have averaged between the mid-40's and low-50's for many weeks now. These higher than normal temperatures for mid-winter are unusual and prompting some of the trees and early budding flowers to "spring" to life. In my gardens, the rhubarb has popped up, the daisies have new leaves, the snap-dragons are pushing up from the dirt and we saw two robins in our yard this weekend! And mosquitoes as well. Hummmmm. While I love the reminders that spring is coming, it is just too soon to be knocking at the door. Of course, my mind goes to the concerns regarding climate change and I see in my ten minutes of allotted time for news, that most of our country is experiencing one atypical weather pattern after another. Destructive tornadoes, damaging floods, avalanches, and severe winter storms. So rather than stress, I ask what more I can do to recycle, reuse, repurpose, donate, and limit waste. Ahhhhhh, there ARE things we can do – every single day.
Because of the mild temperatures, I have been outside clearing garden beds and playing in the dirt. Our dog, Mandy, loves nothing more than to be outside with us romping and running through the yards as we tend to chores. She also looks for every chance to grab one, if not both, of my gardening gloves and take off running. She throws them up in the air, catching them as they fall, jumping and twirling, as if that glove was the finest dog toy ever created. I am on my third pair of gardening gloves since last spring.
Tortilla Soup
Tortilla soup is this month's recipe. A family favorite and one I always prepare at least once throughout the winter months. I serve it with tortilla chips and my homemade guacamole.
Ingredients
2 large boneless skinless chicken breasts
1 can of black beans – drained
1 can kernel corn – drained
2 can diced tomatoes with jalapenos
1 ½ cups chopped onions
2 cloves diced or minced garlic
4 cups chicken broth
1/3 cup chopped cilantro
1 tsp ground coriander
½ tsp cayenne pepper
1 tsp cumin
1 tsp dried oregano
Juice of two limes
Sour cream and shredded cheese to garnish if desired
Instructions
Cut chicken breasts into large pieces
Brown in a large soup pot in olive oil and simmer with 1 cup of the chicken broth till tender then shred the chicken
Add all the remaining ingredients into your cooking pot except lime juice and garnish
Simmer for 3 hours on the stove
30 mins. before serving stir in the fresh lime juice.
When serving in soup bowls, you can add a dollop of sour cream with shredded cheese
Bon Appetit