This last week I attended the 2022 Chanticleer Authors' Conference at the beautiful Bellwether Hotel which is situated along Bellingham Bay. The weather was gorgeous every day, the presenters informative, collaborative, and entertaining. The best part of the conference is always meeting new authors from all over the world and being reunited with author friends you haven't seen sometimes for a year.
I was honored this year to present on a panel where we discussed "Jumping Genres." A literary genre can be defined as a category of literature. Examples of literary genres are memoir, mystery, historical fiction, self-help, etc. It was great to share my experience of "jumping" from writing three novels of historical fiction written in first person to now just having completed writing a cozy mystery in third person. Many authors write in multiple genres, and in my case, I really wanted to stretch myself as a writer and explore a new category, different topic and another voice of writing.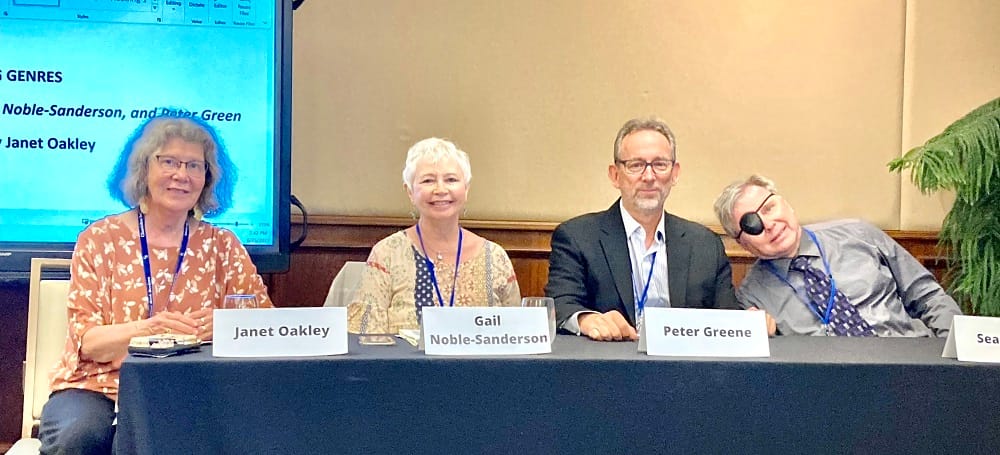 Adventure in Writing and Reading
The new cozy mystery, The Book of Rules, will soon be off to Wales to be read by friends. These wonderful people not only live in Mumbles, Wales, but are historians, writers, and editors themselves. I am very grateful for their kindness in reading my manuscript. I am also very nervous and hope that most of what is written is accurate. And what isn't, I will with a grateful heart, change to make it so.
My incredible talented sister, Kathleen, just completed the beautiful watercolor painting for the new cover. When I visited her in April this year, we looked at many pictures of the coastline of Southern Wales as well as trains that were running the rails during that post-WW2 era. In the next months I will be gradually unveiling the painting as Kathleen "unveiled" it to me. I am so incredibly privileged, grateful, and honored to work with my sister as she always makes my stories come alive through her art.
Gardening and a Recipe
Our temps are finally warming and the gardens growing. I did my first gathering of snap peas, radishes, and lavender this week. Terry planted the corn; the pumpkins and squash are vining, and the tomatoes have blossoms. The chickens do seem to enjoy their hanging baskets of colorful flowers gracing the perimeter of their run, Mandy loves her new dog kennel beside the upper gardens, and all is right with the gardening world. Now if the world in general would only become a more evolved place embracing equality, peace, and kindness instead of going backwards to less than we should be. It is heartbreaking and frightening that we are not protecting our own people from violence.
Greek Orzo Summer Salad – Serves 4 – 6 people
Ingredients
1 cup Orzo pasta
1 ¾ cup water
½ cup chopped of each: onion, red pepper, sun-dried tomatoes, cucumber
½ cup sliced of each: calamata olives and marinated artichokes
1/3 cup cubed feta cheese
1 tbsp. fresh lemon juice (or more to taste)
¼ tsp. salt and black pepper (or more to taste)
Cooked shrimp or chicken
Instructions
Cook the orzo uncovered in slow boiling water for 10 mins. Do not overcook. Turn off heat and cover for 5 mins. No need to drain.
Transfer cooked orzo into a large bowl. I transfer it into the bowl I am going to serve in. Let cool for 20 mins. Separate the pasta gently with a fork.
Combine all the other ingredients to the Orzo
For the dressing, I add 2 tbsp. of the liquid from the jar of the marinated artichokes. It already has oil and spices. However, you can add a dressing of your choice. Gently blend the dressing into the salad and chill an hour before serving. Delicious with flatbread.
Bon Appetit!