July is a lovely month in the Pacific Northwest and truly the beginning of our summer. The persistent June rains, which we did not get many of this year, are past, and warm sunshine will grace our lives well into October. I spend most of every afternoon outside, preferably barefoot, tending to all the beautiful specimens of flower and fauna. Birdsong accompanies my planting, pruning, cutting, and clipping. It is a fine time of the year to be mindfully grateful as we bask in the glory of these summer days.
Adventures in Writing and Reading
Now that so much of my time is spent out of doors, I am not sitting and writing as often. That said, these past two weeks I have refocused on marketing efforts as well as teaching a marketing class. The class was wonderful! Twenty-six authors who had all written books were ready to launch their stories out into the world. There was a wait list for the class so I will be teaching it again in November and a class the next quarter on how to self-publish your work. I am a teacher at heart, and it is nice to be back in the classroom.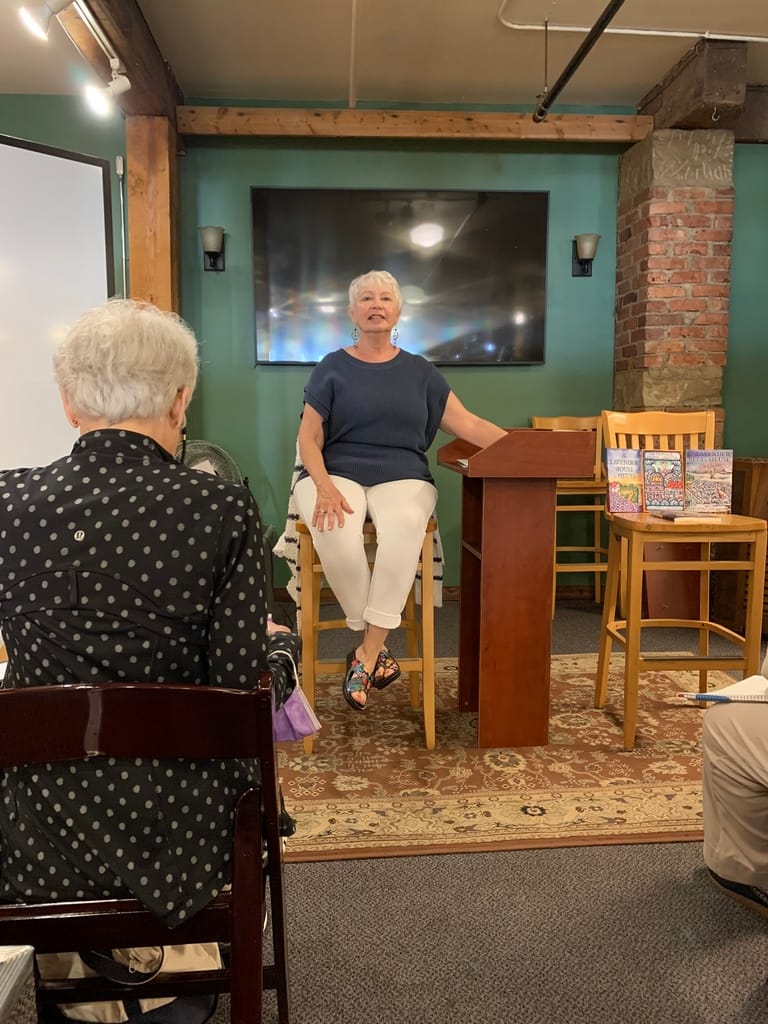 Chanticleer International Books and Reviews sent me the beautiful 1st place badge pictured below. I am in the process of creating stickers to place on each copy of The Book of Rules. We all appreciate knowing when a book has been acclaimed as a great read before we make that purchase.
Upcoming Events
During the third weekend of July – 7/21 – 23, the beautiful town of Sequim, WA, – also known as "The Lavender Capital of the World", celebrates their annual Lavender Festival. There are nine exquisite working lavender farms in Sequim and in addition to the farms, downtown Sequim puts on an incredible street fair all through the weekend.
During this month's Lavender Festival, my sister Kathleen and I will again be Artists in Residence at the beautiful B n B family-owned lavender farm. This year will be our fifth year of participation and each year is more wonderful than the last. We set up our tent and table where I display, sell, sign, and talk about my Lavender Meuse Trilogy novels as Kathy paints pictures and cards of lavender all through the day. She also has paper, paints and brushes set up for children to come try their hand at watercolor. We visit with hundreds of people during the three days we are there, listening and enjoying everyone's stories and sharing in their exuberance of experiencing this magical festival. Kathleen and are fortunate to stay in a lovely bed and breakfast just behind the farm. We walk back and forth through the lavender fields to and from the farm basking in the beauty of spacious acres of rich blue. If you are looking for a fun event, come to Sequim and experience a gorgeous and fun event.
Gardening and a Recipe
All my pots, plots and gardens are planted and growing! I try to have everything in the ground by July 4 just as our summer really takes hold. The sun shines and I water and stand back and watch. I also spray with a natural insecticide as needed. It's the potatoes this year that are being visited by bugs. It is glorious watching the pumpkin blossoms unfurl and the small shoots of corn pop up from the ground. Onions, tomatoes, potatoes, squash, cucumbers, broccolini, Brussel sprouts, carrots and radishes are growing and thriving! Terry reminds me it is time to stop buying and planting flowers, that the gardens and pots are bursting. So true and I love it. But I do need to stop myself from visiting my favorite nursery.
Last week I replanted the hanging baskets that grace our chicken run. What fun! Terry set up a planting station for me of 2' x 4' boards laid across the compost bin. Was an easy and efficient way to create the large baskets! I also filled several large planters at the front of the house with a variety of flowers and greens. They are tucked in between the thongs of colorful poppies and will grace the area after the poppies leave us.
I also have strawberries in my kitchen gardens and July is the month they are ready to eat. Last weekend we enjoyed sharing a family Sunday feast hosted by our daughter, Taya and her husband Greg. Our contribution was to bring desert – strawberries and shortcake. I so hope you enjoy the shortcake recipe below! They are really delicious, and the addition of semolina flour adds an elegant crunch to the shortcake!
Summer Shortcakes
Ingredients
1 1/3 cup all-purpose flour
3 tbls. semolina flour
1 tbls. baking powder
¼ tsp. salt
3 tbls. soft brown sugar
½ tsp. cinnamon
6 tbls. chilled butter cut into small cubes
2/3 cup + 2 tbls. half n half
Instructions
Combine and blend all the dry ingredients
Add the chilled butter and cut into the dry mixture with a pastry cutter. The butter should not be completely blended in but batter should be crumbly and with some small dots of butter
Add the half n half and blend till the batter is moist. Don't over blend.
Place spoonfuls of the batter onto a cookie sheet lined with parchment paper
Bake at 350 degrees on your middle oven rack for 25 minutes. The shortcakes will be a lovely toasted color.
Will make 10 – 12 yummy shortcakes
Serve with sugared strawberries and whipping or ice cream. Summer Delicious!
Bon Appetit!!