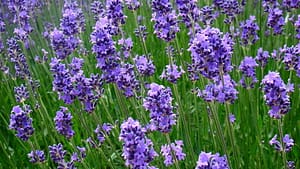 The cover of "The Lavender House in Meuse" depicts a simple home sitting in the midst of flowering fields of lavender. Lavender has been cultivated in France for centuries and used extensively in the production of perfumes and essential oils as well as regaled for its medicinal properties as well as added to foods.
In the story of "The Lavender House in Meuse", Marie stands and contemplates Henri and Sister Agnes's proposal to place bee hives in her vast fields and muses, "We truly were standing in the midst of hectares of early blooming fragrant flowers inhabited by throngs of bees – thousands upon thousands of them, the air alive with their movement and humming. I watched them for a moment alight on one bloom and then on to the next…….I realized I was already licking the honey from a comb that could be created here in my lavender".
As my lavender is blooming now in my own gardens, and I too watch the industrious bees, I often find myself wondering if they would not welcome a hive or two placed conveniently among the purple blooms!