Rainer Maria Rilke said, "It is spring again. The Earth is like a child that knows poems".  We Pacific Northwesterners wait all year for these precious days. I am sure that is also true for many of you in most parts of our country. Here in Washington State, daylight now greets us at 5am and ebbs around 8:30pm accompanied by beautiful sunsets. Soon the daylight will extend to 10pm, and because we have such short winter days, you will find us outside until the last ray of light has taken its leave.
Adventures in Read and Writing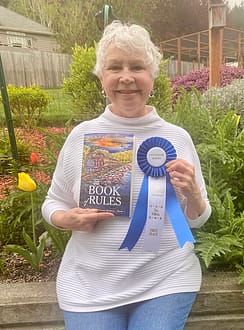 I am excited to share that this last Saturday at The Chanticleer International Authors Conference, my new historical cozy mystery, The Book of Rules, won a first-place award in the Mystery and Mayhem category. Since this book is my first venture into writing mysteries, I was very surprised and more than thrilled and appreciative.                                                           
The conference was excellent with authors from all over the world attending to learn and share craft, connect, and feel supported. Every year we gather with old friends and meet new ones. We spend four days in a world where all talk is about the art of writing, publishing, and marketing our works. As an author, there is nothing to compare with this experience of spending time in this unique world with like-minded people. By the end of the conference my brain is full to bursting and all I want to do is to go home, organize my thoughts, create my writing to-do list, and compose my next chapter. But, alas, I left that alternative universe and went home to do two loads of laundry, take care of my chickens and cats, went to the grocery, and organized myself for another week of work. But I also know there are hours I will set aside during this week to complete that writing to-do list and write that next chapter. The second cozy mystery in The Drew Davies Railway Mystery Series is coming right along (an update on that in June).
Upcoming Event
I want to share that on Saturday, June 3, from 10 am to noon, I will be teaching a class on marketing at Village Books in Bellingham, WA. Marketing our books is challenging, time-consuming, task oriented and necessary. You do not always immediately reap rewards for your efforts. However, marketing is part of the job of getting our books out in front of perspective readers and an important part of our business. And, yes, if you are a writer and are marketing, then you have a business. And that is exciting!
I am calling the June 3rd class, "Marketing for Authors Who Just Want to Write". You can register for the class through Whatcom Community College at www.whatcomcommunityed.com. The cost is $39 and will be held at Village Books in Bellingham, WA in their Readings Gallery. This is a beginner's class on how to initially set up and implement a marketing plan. Each person in attendance will design a personalized plan from a template I will provide. You will leave the session with a game plan you can immediately put into practice to begin marketing.
Gardening and a Recipe
Since the warmer days have arrived and the threat of frost is behind us, it's time to begin prepping the soil and planting! I have prepared the large pots on my brick patio for planting. Two of the five pots are now filled with young flowers and plant starts; one with violas and candy tuft, and the other pot with lupins – orange and yellow on the same plant – can't wait to see it in bloom. Friday, Terry and I are leaving for our annual ten days of fishing on the mountain lakes of Eastern WA (we are so fortunate to have a wonderful house sitter!), and when we return Terry will clear the large vegetable gardens for me and I will clear and plant the raised beds with more vegetables. Excited for tomatoes! The flower gardens and the many remaining pots will also need to be filled as well as sprucing up the herb containers. The winter was hard here, and we lost several lavender and hydrangea bushes, which I hope to replace as well.
May your spring bring new life to you and yours and may you spend some time outside enjoying the new life bursting forth all around us.
May Recipe
Ingredients
-One pair of gardening gloves
-Some seed packets of zinnias and/or mixed wildflowers
-A small hand cultivator – a forked spade
– A small hand spade
-A plot of earth for planting or a large pot on your balcony or patio
-One bag of garden soil such as Miracle Grow
-Water
Instructions
-After finding your perfect place to plant and with your hand cultivator, clear it of all grass, weeds, rocks, and pebbles. Dig it out at least 6" deep.
-Now thoroughly mix the garden soil into the existing soil and smooth your plot of ground. It will be lovely and ready to plant.
-With the tip of your hand spade, or the tip of your finger, make trenches all along the length of your plot and about 2" deep. If you are using a large pot, your can make circle trenches. Sprinkle your flower seeds into the trenches.
-Cover your seeds loosely with your soil and water gently using a hose or watering can.
-If Mother Nature does not do it for you, gently but thoroughly water your plot every couple days as needed.
-In 2-3 weeks, your seeds will sprout and soon you will have a lovely carpet of flowers to enjoy all summer long.
Bon Printemps!