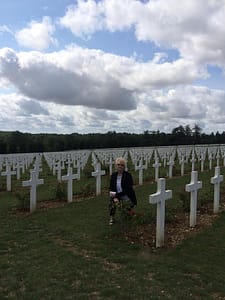 Today, Nov. 11, is Veterans Day here in the United States and Armistice Day in France.
This day in 1918, in the town of Compiegne in northern France, the armistice treaty was signed ending World War I. More than 15 million people lost their lives in that "war to end all wars".
My husband and I visited the citadel and cemetery in Verdun during our time in France this summer. More than 305,440 died in the almost 10-month long battle of Verdun. Standing among the thousands and thousands of crosses and looking across in all directions for as far as we could see, were the killing fields of all those that fought and perished in that horrific battle.
May we take time today to remember all of those in all countries who died and who continue to die in conflicts and wars and may we pray always for peace.